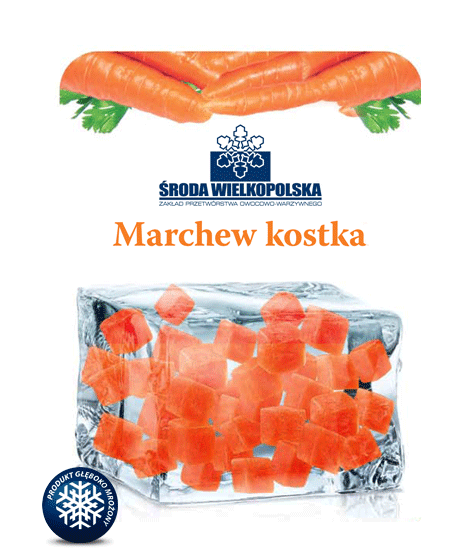 Diced carrots
The product contains a great amount of carotene which have a good impact on our sight. Carrot contains beta-carotene and vitamin C and E and because of that it is very healthy for us.
In addition, it is beneficial to our organism, immunity system and sight.
Carrots are not only beneficial to our organisms but also to our appearance. They are recommended by cosmetologists because thanks to them we can have nice and healthy-looking complexion. Carrots reveal rejuvenation features because they make skin more flexible.
Carrots are the main source of vitamins A, B (B1, B2, B6), C, D, E, H, K and PP. What is more, they are the source of potassium and sodium alkaline, and calcium, iron, magnesium, chlorine, silicon, and sulfur.
They prevents seborrhea and they fasten the skin regeneration. Carrots make skin more flexible. What is more, wrinkles become less visible.
Preservation (unless product is thawed):
| | |
| --- | --- |
| - 6°C | 4 dys |
| - 12°C | 1 month |
| - 18 °C and below | until the expiry date placed on the packaging |
Nutritional value 100g:
| | |
| --- | --- |
| Energy | 101 kJ / 24 kcal |
| Protein | 0,9g |
| Carbohydrate | 7,8g |
| Fat | 0,2g |
Keep frozen until ready to use
Never refreeze thawed product
Preparation:
Put the content of the package (without defrosting) into a pot with a small amount of salted and sweeten boiling hot water. Add 3 tablespoons of butter and cook in a covered dish until carrots soften. Heat 1 tablespoon of butter and mix it with 1 tablespoon of flour and fry it but do not brown it. Then mix with carrots and boil it. Serve hot as an additive to main course.