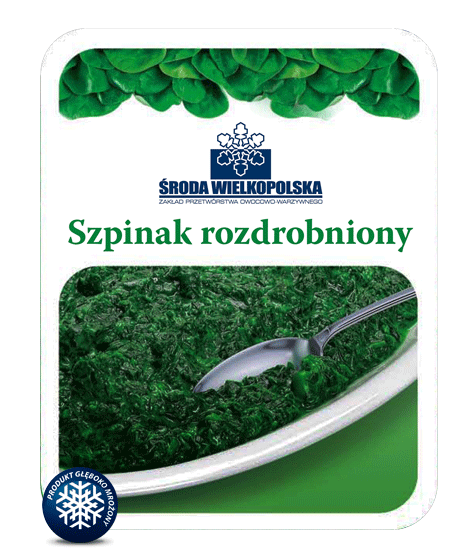 Minced spinach
It contains a lot of vitamins, especially vitamin A. Moreover, it is a good source of B, PP and C group vitamins.
It is also a very good source of iron, manganese, magnesium, copper, calcium, phosphorus and iodine. In addition it contains essential macroelements such as sodium, potassium or folic acid. It decreases the risk of cancer, heart disease. Furthermore, it helps to avoid anaemia and it helps to strengthen our sight. Because of the fact that it includes oxalates it should not be eaten more than two times a week. It retains more minerals and vitamins when it is steamed.
Preservation (unless product is thawed):
| | |
| --- | --- |
| -6°C | 4 days |
| -12°C | 6 days |
| - 18 °C and below | until the expiry date placed on the packaging |
Nutritional value 100g:
| | |
| --- | --- |
| Energy | 61 kJ / 15 kcal |
| Protein | 2,3g |
| Carbohydrate | 2,7g |
| Fat | 0,4g |
Keep frozen until ready to use
Never refreeze thawed product
Preparation:
Break spinach (without defrosting) into small pieces. Melt 2 tablespoons of butter in the pot, add spinach and heat until it completely defrosts. Then add salt and one crushed clove of garlic. Stew for about 4 minutes and stir it all the time. In the end add a little bit of cream and some spices to taste. Serve with a soft-boiled egg, a fried egg, pancakes, omelet or as an additive to meat.